Advantages of Leasing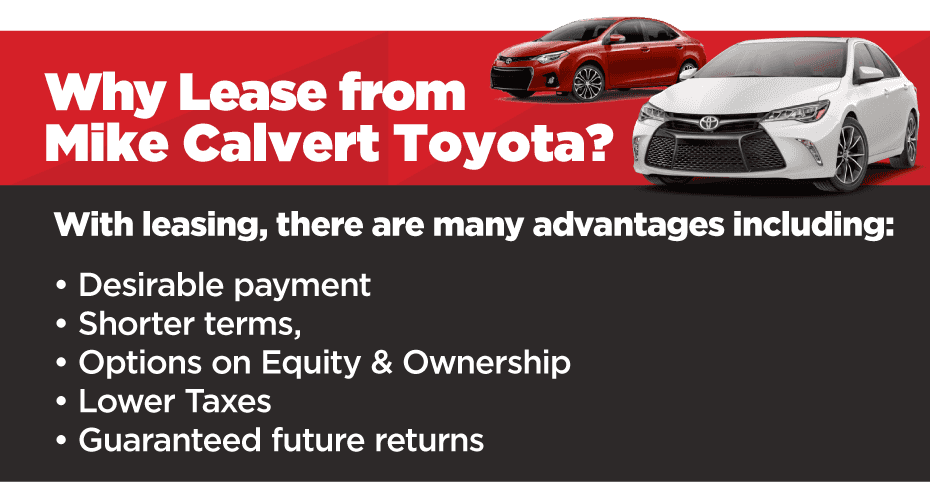 Advantages of Leasing at Mike Calvert Toyota
Toyota is continuously providing lease deals and regional offers to help you save. At Mike Calvert Toyota, our financial team is up-to-date on all the lease offerings and here to help you find the best lease for your financial needs. Let our financial expert's help you choose the right one and walk you through the steps of leasing. Often times, leasing can provide you lower monthly payments and lower taxes than buying a vehicle outright. Also, leasing usually allows you to have shorter terms so you can stay in the latest, most technologically advanced vehicles. Lease agreements normally contain a mileage parameter so you will want a lease specialist to help you calculate and negotiate the best terms for you. Let the specialists at our Finance Center customize a lease just for you!
What happens at the end of a Lease?
One of the best things about leasing is the freedom to choose at the end. Maybe you've fallen in love with your car and don't want to part with it just yet. No problem! You will have the option to purchase your lease vehicle. You might decide that you like your vehicle, but a newer version with a sportier look is now available. You can simply start a lease on the newer year model. Or you may have your eye on a completely different model that might fit you growing family. You can check the lease options on that vehicle, too. Finally, you may decide it's time to turn in your keys and that's okay. We want you to choose the best option for your needs.
What if I'm Trading in a Car?
Not a problem! Trading in a car is easy at Mike Calvert Toyota. We will work with you to get you a competitive fast offer for your trade-in. You then have a few options. Mike Calvert Toyota will show you options that include using your trade equity to lower your monthly payment. Another option is simply receiving a check for the value of your car. No matter what option you choose, you can rest assured that the process is simple and requires little stress on your part.