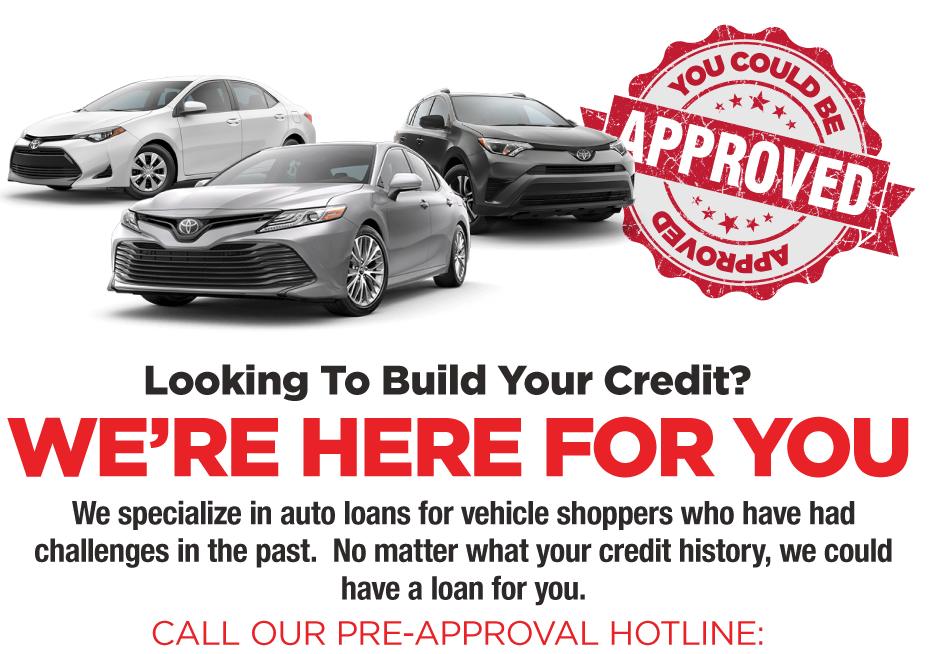 What is Special Financing?
Special financing is specific financing options for potential buyers who may not qualify for standard auto financing because of lack of credit, past bankruptcy, foreclosure, or late payments. We know times can get tough. Rather than stopping you from buying a car, Mike Calvert Toyota's Financial team is ready to assist you in getting financing terms and payments you can afford. Don't let bad or no credit prevent you from driving a brand new or pre-owned vehicle! Don't settle for less, we can get you in a great new vehicle today!
No Credit, No Problem
At Mike Calvert Toyota, we try our best to provide our customers with a wide variety of options when purchasing a new Toyota or used vehicle. People with unestablished credit (no credit) sometimes run into issues when trying to get car financing. At our Houston dealership, we have financial experts who are ready to assist you in finding the best financing solution for your situation. If you're a college student who wants to buy a car but you don't have established credit, our Finance Center has options for you. We believe that no one should be barred from getting a new car for themselves regardless of credit history or lack thereof.
Don't Let Your Credit Keep Your From Your Dream Car
If you've had a few credit issues in the past, Mike Calvert Toyota is here to help you. Special financing options are available for car buyers with lower credit scores or no credit. We want to make sure that every buyer has ample opportunity to purchase a car. At Mike Calvert Toyota, you can rest assured we will do our best to get you the financing you need. Our financial experts are ethical, and honest. We want to help you, not take advantage of you. Visit our Toyota Dealership today at 2333 South Loop West in Houston!