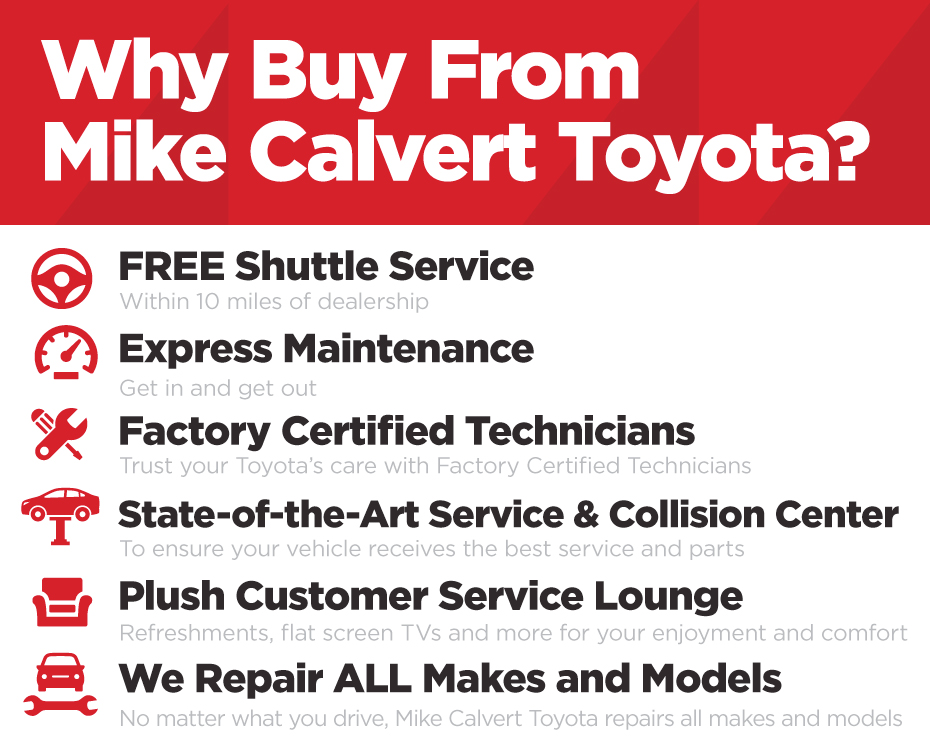 Why Buy from Mike Calvert?
Since 1983, owners Mike Calvert and Jay Davis, have put customer service on the focus of their business. At Mike Calvert Toyota, we guarantee an easy and satisfactory car buying experience. If you are not satisfied, please let us know. Our award winning Toyota Sales, Toyota Services, Toyota Parts, and Toyota Body Shop Departments are top notch and ready to serve all of your Toyota needs when you come in to visit us here in Houston, Texas.
Professional Service and Help
Come visit Mike Calvert Toyota and let our professionals guide you as they answer any questions you may have during your visit with us. Don't sweat it; let us do that for you! We offer the best when it comes to taking care of your Toyota. Let us take care of your vehicle while you relax knowing that you are in good hands. Anytime you visit our Service Department you can rest easy knowing that we are checking your vehicle bumper to bumper, and will notify and fix anything we may find. You will leave knowing that we did everything we could to make sure your car is in the best shape possible.
Don't Hesitate
These are just a few of the benefits you get when you buy from Mike Calvert Toyota. We are here and ready to serve you and all your Toyota needs as best we can. Visit us or call at (713) 904-1601 with any questions or concerns and experience our amazing service for yourself.